So I am late posting this but we have been so busy making room for little man and I have been too exhausted at night to sit at the computer and write. SS turned 14 months 9-30. I really cant believe that she is growing so fast. She is becoming like a grown up...with an attitude that is!!! I know she gets it from me I will be the first to admit that...but wow she really shows herself sometimes. She makes us laugh and we just love each min with her. Its amazing how fast the months are going by.
Sarah Scott...mommy and daddy cant begin to tell you what a precious little girl you are. You have really taken off over the last month with trying to talk. Here is what you are up to these days:
*In size 3 shoes
*Still in size 3 diapers (huggies) and size 4 nighttime diapers
*Have decided that you LOVE fruit...you eat peaches and mandarin oranges all the time. You seem to like grapes and apples one day but not the next.
* Your meals are still the same as last month but you added fruit. You don't venture out of mac and cheese much and not a big fan of ravioli anymore.
*In size 12 months pants although some are still too big in the waist
*weigh 20 lbs
* have 12 teeth
* Nightly routine of bathing, reading and singing has not changed
*You are still going to bed around 8:30 but waking up around 715 or so...sometimes you get so tired and I put you down at 8
* still taking 2 naps during the day but you can skip your AM nap if you need to
* Recently began lifting shirts to look at belly buttons...I think you learned that from one of your peek a boo books.
* Your new words this month are apple (ah boo), bow, tuggle (guggle)and poo poo
*You point to where your nose and hair is if you are asked.
*You love to roar like a lion.
* Started to hit and bite and daddy and I are trying to break you of that. You bit your cousin Addi very hard the other day and mommy 2 times in the last several days. The hitting is not fun either so we are trying to teach you what gentle means.
* No more bottles only juice and milk in the sippy cup.
* You have been sick this month with a diaper rash...we have really struggled to figure out what was causing this and some GI symptoms that you are having. Dr.Getts thought you may be lactose intolerant but I think that we have ruled that out. You seem to be getting better and that makes mommy very happy.
*You have started to sit and open books and just mumble anything like you are reading...I love that!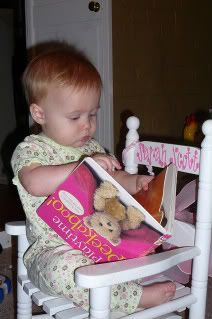 You are growing up is all mommy can say. You are my sweet little angel!!
Your little brother will be here soon!!!
Mommy and daddy love you more than you know.