Happy 16 months Sarah Scott!!
You made it to 16 months before your brother arrived..whoohoo!!!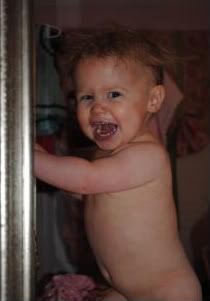 This last month has gone by very quick as mommy and daddy have continued to prepare for Hampton. You have really grown alot over the last month...and you have developed an attitude of attitudes. It can be a little humorous at times but daddy and I are working on how to deal with it. Let me catch you up on a few things that you are now doing:
1. Moved to size 4 diapers

2. Still in size 3 shoes

4. 12 -18 month clothing

5. 22lbs

6. you have not changed your nightly routine or eating habits.

7. Sleeping still about 12 hours

8. you are obsessed with "Bar-eee" which is Barney...but only the old ones you do not really enjoy the new ones...actually yesterday we watched about 12 Bar-eee's. You wake up in the morning saying his name and take the channel changer to daddy and I and say his name.

9. You are continuing to talk talk talk...you repeat alot of what we say.

10. New words are "bi-yee" for bite, "pa-pee" for paci, "deyoo" for two...you even tell me that 2 comes after one, "be-yoo" for bear and "mi-yee" for mine.

11. Spent the night with BeBe and Grandaddy on Friday night and this was your first time ever spending the night off.

12. Got a new big girl seat for daddy's car and you love it.

13. Lowered your mattress all the way to the bottom.

14. Had 2 more teeth come in...you have pretty much a mouth full

15. Started to eat with a fork and you do not want help...you like to do it all on your own.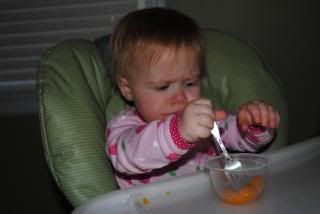 Sarah Scott you are such a big girl and continue to bring daddy and mommy such joy. You will meet your baby brother Hampton in 3 days and I cant wait to see what you think about him. We love you sweet angel girl.
Over the Thanksgiving weekend Sarah Scott had several adventures.

Friday night Scott and I had to attend a debutant ball that was a formal party. Scott looked so handsome in his tux and me on the other hand looked large in my formal gown. We had a great time and Sarah Scott stayed with Scott's parents overnight. This was the first time she has EVER been away from us overnight. I was a little nervous but she did great.
On Saturday we took her with us to get a Christmas Tree.


It made me so nervous with her running around bc you can lose her so easy in all the trees. She really did not know what to think and had more fun being a free bird and running off energy.

That night we took her to Scott's Aunt Debbie's and Uncle David's. They get Santa each year for the kids and last year Sarah Scott did not mind him but this year was a different story as you can tell from the picture. She would sit in his lap but screamed the entire time. It was cute though and I enjoyed getting pics of it.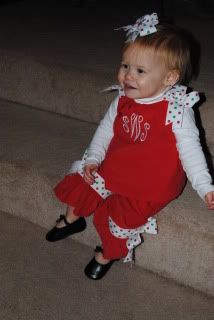 Sunday was very laid back. Scott pretty much now has me on house arrest until Hampton arrives. We did not go to church bc walking is becoming very uncomfortable for me and I just really needed to sit all day....and that's what I did. Scott took over all responsibilities and I sat on the couch and watched TV.
Today I went to work for my last day ever at Augusta ENT...I am very sad and lets just say that's for another blog!!
Looking forward to the next several days at home with Scott and Sarah Scott and then off to the hospital Thursday AM to have this little man.
Cant wait to meet you Hampton!!