Last weekend for us was a busy one. We had a birthday party and 2 baby showers one being for Hampton. Some very special friends of mine gave us the shower
.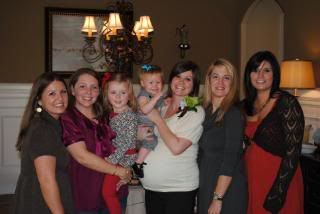 The girls that gave the shower..Heather, Nicole and her daughter Addi, me and SS, Christin and her daughter Mary Hil and Tina
Hampton got some really cute things and we had a great time. My mom had asked me previously in the week if I was planning on bringing Sarah Scott. To be honest I had planned on leaving her with Scott bc I am in no shape to be chasing her around but mom was not having that. I told her that I would be more than happy to bring her but she was responsible for her.....let me tell you SS gave her a workout. She was nonstop and had the best time playing with Mary Hil and Addi.
Here are some pics of the shower:

My mom and mother n law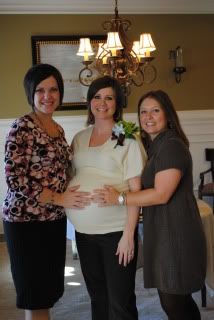 Meredith and Heather...we took this pic for Jenn...we missed you girl


Hampton got 2 cute monogrammed bags that I love and a friend made Sarah Scott the most precious outfit for the hospital...it says "I'm the big sister."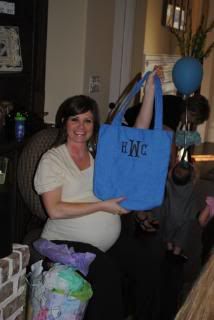 Thanks girls for putting the shower together for us...we had a wonderful time and it really means alot to have wonderful friends. Love you girls.