Well...needless to say I have been really bad on updating. I do actually have an excuse. As you know Scott got me a camera (Nikon D40) several weeks back...we decided to exchange for a Nikon D3000 and we JUST tonight got the memory card to upload on the computer with all my pics. I have Halloween pics that I still need to show of cute little SS.
We really have been pretty busy around this little house and awaiting the arrival of Hampton...oh how nice it is to not have to say "little man."
The weekend of Halloween SS and I went on our annual girls shopping weekend. Every year all the women from my moms side go for a weekend shopping trip and this year it happen to fall on Halloween. Nicole and Addi were not able to make it for that reason and we missed them. I brought SS's Halloween outfit and she looked so cute in it. She shopped in it all day. I will have to say that the hat makes the outfit but she REFUSED to wear it.
I have to show this precious outfit that Scott's Aunt Debbie made too. I love my new camera but I wish it came with a switch that would make SS look at the camera and smile at the same time:)
We got a pumpkin as you see in the pics but did not go to an actual pumpkin patch so I took some pics of SS on the steps of our house.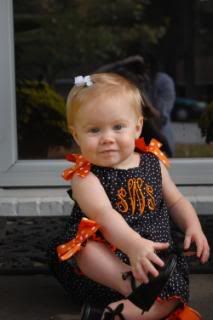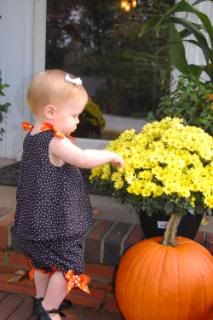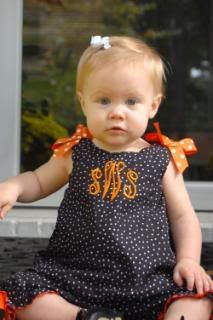 We had our wonderful friends April and Jacob come in town to see us last weekend. April insisted on coming in town to paint Hampton's room and I really was so thankful for this. It was so sweet of them and it was the sweetest thing a friend could do for us. Hampton's room is coming together slowly but its getting there. We have furniture being painted now that we will hopefully have at the end of this week. The crib is up and I got a cute rug and lamp from Pottery Barn a couple of weeks ago. My bedding will be done before he arrives. I have come to the reality that he will not have curtains made or things on his wall when he arrives but everything else will be perfect for him. I sent April back to Greenville with a canvas to paint and the letters of his name to paint...I guess that means she has to come back and see us!!
This is a pic of SS dancing for Jacob and April!
Thank you April and Jacob we love you both dearly!!

I have not been feeling well over the last week or so. Hampton is causing lots of discomfort and I have been having Braxton Hicks. I went to the MD yesterday and was given a shot of Progesterone to stop contractions and I really have felt much better today. We still look to be on track for Dec 3rd csection but will know more on Monday. I have an appt and sono so we will get some idea as to what Hamp is weighing.

I have my shower this weekend which I am very excited about. We have a birthday party for Jake Hardy to go to..SS second bday party!! Other than those plans we will be taking it easy this weekend.
One post that I missed was SS turning 15 months...this was 10/30 and we were gone and I am slack about catching up. SS is growing so fast before our eyes and has a little attitude and sense of humor on her. Its like talking to a little girl...she is no longer a baby!!
SS loves to carry around boxes or a purse and put her toys in them. She recently has become attached to this box and I figure why not if it keeps her entertained.


She loves to carry around Scott's golf club too.


These pics below are of her and Scott the other night. He put her in a box and made her feel like superwomen...she was loving it until the end pic...when daddy decided to stop. This look is Sarah Scott's new look that she will give when she is not a happy camper...it is so funny!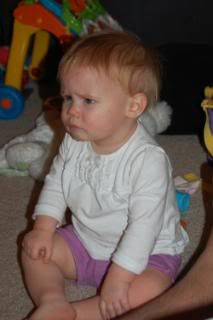 Sarah Scott mommy has to tell you that you are growing growing. You have become obsessed with Barney..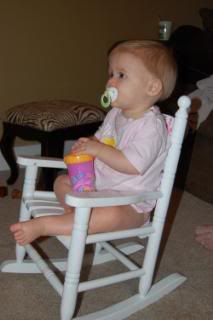 This is you watching him on TV...you will sit there through the entire show. Its about the only cartoon that you will watch but Barney has your attention for some reason.
*You are still in size 3 diapers
* Size 3 shoes, 12-18 month clothes
*weigh 21lbs5oz and are 30 1/4 inches long
* Still eating about the same thing. The only food that has changed is you now like lima beans
* Nightly routine is still the same
* You are now saying more things...Daddie instead of Dada, every food is an apple, every dog is "guggle" for Tuggle, mammie is Grammie, BB is Scotts mom.
You love to say "happy, happy, happy" and when you eat you say "yummy, yummy,yummy"
* You love to dance...you have got some interesting moves!!
You are getting big sweet girl.
Well 3 more weeks until the big day that Hampton arrives. Please continue to keep us in your prayers as we prepare.
Have a wonderful rest of the week!!