Well the weekend is over and we enjoyed our family time. We did not do much because I have been on call but we did venture out for several things. Friday evening was spent hanging around the house and playing with SS.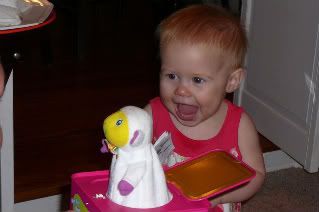 On Saturday we stayed around the house for the first part of the day and did some picking up and then we had a birthday party to go to for Katleyn (a friend from work's daughter).
During my cleaning time in the kitchen SS made herself at home in her favorite place...the refrigerator. She had her juice and a plate that she was reading like a book. So cute!!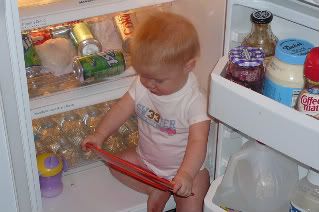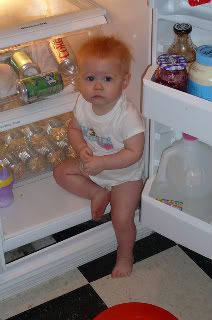 Around 3:30 we headed to the party. Katelyn turned 3 and was having a swimming party. SS had a great time watching all the other kids. It did rain but it did not seem to bother Katelyn at all...she had herself a good ole time. After the party we went to eat dinner with Christin and MaryHill. It was nice to see MH and SS together bc little do they know they will grow up to be best friends. SS is finally starting to learn how to interact with other kids without tackling them (she has done that to MH several times). We had ourselves some good ole Mexican and then headed home for bed. Sunday we skipped church from me being extremely tired and then headed to eat with the family for my aunts bday. I always love getting together with family bc we have such a great time and SS loves all the attention. She was quite the entertainment.
SS is down for a nap now so I thought that I would get in a quick post. I realized that I have not taken one pic of myself with this pregnancy and so I decided to get on it!!! Scott is outside doing "man things" like cutting grass and changing the oil so I had to take the pics by myself. I did ok but most of all this baby boy will not feel left out in 20 years when he ask to see the pics of me prego with him.
We have a short week ahead of us as we leave for the beach this weekend with my parents and brothers family. This is the first family trip that we have taken since my brother and I have married and had kids. I am very excited and cant wait to see SS play on the beach and swim. We have alot of packing to do and I promise to post pics as soon as we get back. Have a wonderful week!!
** If you will keep in mind our friends the Tucker's this week. Most of you have heard me talk about them and the trials that they have experienced over the last year. As you all know they are pregnant and expecting Baby T soon. She has her amnio Tuesday and if baby T passes they will induce and deliver baby T sometime on Wed. Please pray for a safe delivery and for God's hand to cover Denny and Ashly through this time **