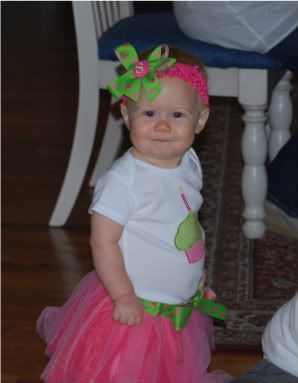 Our sweet Sarah Scott
I cant believe it is over...all the planning, stressing and anticipation that went in to this and poof it's gone. I have been working on the party for several months. I knew that I wanted pink and green for the colors bc that is the color of SS room and that I wanted polka dots/cupcakes as the theme....so I had a friend help me out and she actually made each invite for me. She did an wonderful job and I loved them.


I ended up finding the napkins and several "Happy 1st Birthday" decorations online. I did alot of searching online about party favors and cakes etc...Needless to say it all came together and Sarah Scott had a WONDERFUL time and did amazing. The day was pretty hectic leading up to the party but thanks to my wonderful friend April she helped calm me and get a lot of things done. She has amazing talent with her writing and painting so I put her to work making all my signs.
The party weekend started Friday night when April came from Greenville. She went with me Friday night to run some errands and to pick up the radioflyer wagon that Scott and I got for SS. We got home and finished making a couple of things and then were off to bed.
Saturday started off with waking up around 7:45...SS woke up at that time which is unusual for her (I think she new it was her party day) so I was able to get moving early. SS ended up laying back down with Scott for a while and I was able to get a cup of coffee in. April and I got ready and headed to party city to pick up balloons and a couple of other stores before heading to my inlaws...the party destination. We got to my inlaws a little late but finally made it and we started decorating and I put April to work using her artistry skills. My mom n law had made the party favors..cupcake pops...they turned out so wonderful.


I had to attach a little note to each one, hang balloons, set out food..etc....all the little things that have to be done before the crowd arrives.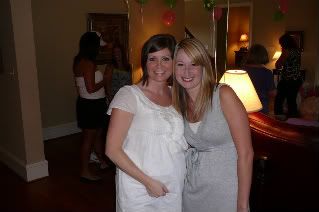 This is my wonderful friend April who helped so much with the party.
Scott arrived with SS right on time and with him came the Portmans.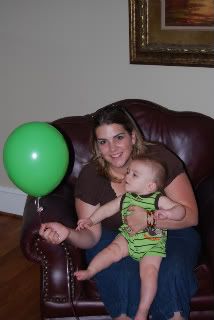 This is Stephanie and Kellen (I did not get a pic of Matt...he was so busy taking pics for us)
Matt, Stephanie and little Kellen are friends of ours from Atl. We were so excited to have them come and honored that they would make the trip to celebrate with us. I put Matt to work using his height...to hang my signs. They also have a wonderful camera and he was able to get many great pictures for us during the party. Scott put SS in her outfit and let me tell you she looked like one cute little one year old. Her outfit was put together by a friend of mine that has recently started a little shop called The Little Azalea
http://thelittleazalea.blogspot.com
. She did an amazing job!!
I got a little stressed thinking everything was not going to get done but ....we made it and the party started.
We had a wonderful crowd of friends and family. Everyone arrived and we mingled for a while and enjoyed all the cute little ones that were running around.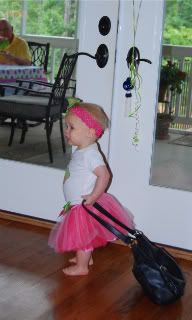 SS was running all around and this pic made me laugh...she has my Nannie's purse...I am starting her early on carrying her purse everywhere.
We had so many friends come that have little ones and they loved running around playing with each other.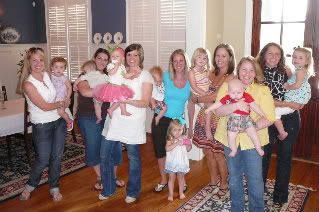 This is a pic of all the moms with the little ones. SS will love to look back one day at her friends that came to her party.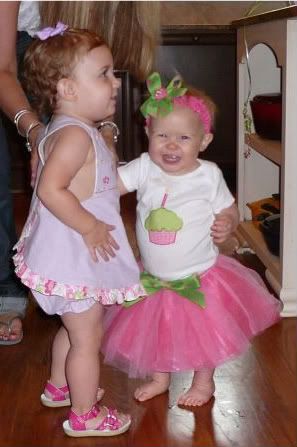 This is SS and her best friend Mary Hill. Her mom Christin and I joke around all the time that the two girls will be best friends whether they like it or not bc we are. The look on MH face cracks me up. I think she is a little terrified of SS bc every time they get together SS attacks her...its out of love but I have not got SS to understand gentle love:)!!!


Just a cute pic of SS and my mom.. aka grammy.

Our lunch menu was barbecue (made by my mom n law), potato salad, cole slaw and baked beans. I have to say thank you to my mom n law, mom and nanny for making the food. We had soft drinks and water for drinks. My mom n law found green buckets for the drinks and April decorated them. They turned out so cute. So one had the soft drinks and the other one held the water bottles that I put together. Well not really put together but I took the label off and made one for SS..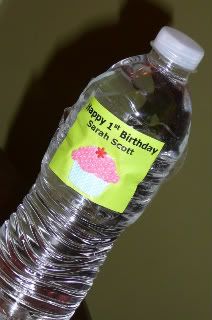 After lunch we let SS open her gifts. A one year old really just wants to play with the tissue paper and bags so I opened all the gifts. She got lots of clothes, toys and books. Scott's parents gave her a rocking chair with her name on it and since we have gotten it home she has tumbled out several times but LOVES it. She will sit and watch TV ...it is the cutest thing.




Scott and I talked for a while about what do you really get a one year old for her bday. I had mentioned a radio flyer wagon and that is what we decided on. A good friend gave me some advice that when SS is older she will be able to look back and know that the wagon she used for so long was her gift when she turned one. We didn't want to get her something that someone else may do. I feel that we picked something neat that she will enjoy for many years to come..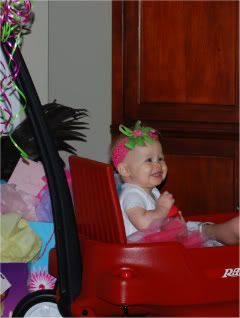 After opening presents with everyone we were off to let SS explore her cake. The cake was a big deal to me and I wanted one that was extra cute. I had in the my head what I wanted (2 tier with polka dots and a cupcake on top) but could never find what I was looking for. One day on facebook I saw a pic of a friends cake that she did for her son and it was EXACTLY what I wanted. My sister n laws mom has a cake business called Balloon Delights in Thompson and makes the best tasting cake you have ever had. I gave her the picture and she did a great job.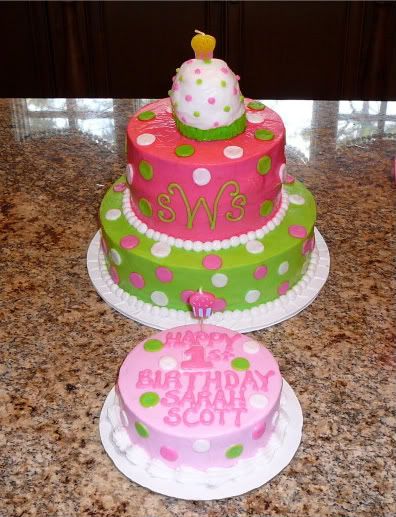 After feeding herself she turned and fed Scott for about 10 min. It was the cutest thing and she was loving that daddy was enjoying her cake as much as she was. I was so proud of her that she did not shy away...I mean I really should have known better she has 2 parents that LOVE sweets and she is the same way. She got pretty messy so we had to bath her off after her cake throw down. Needless to say she was pretty exhausted after and ready for a nap.


The party was coming to an end and SS was running out of gas. As everyone left I put SS down for a nap and we got to cleaning. We packed up all the gifts and it was time to head out. I got SS up and she was not in the mood for fun and games. We had 25 balloons that had to go somewhere and I was not willing to pack them all up in my car. We decided to let SS let them go outside. She was not to thrilled with the idea...she wanted mommy to hold her or either let her go back to bed. However, we did get a cute pic of her with the balloons.

We headed home and spent some more time with the Portmans before their trip back to the Atl. Sat evening I went through her toys and opened each one so that it would be like Christmas morning Sunday. SS could wake up and enjoy all her new toys. She slept Sunday until almost 10AM.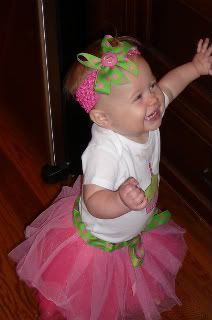 We cant believe that our little girl is one. She is such a joy and we know that 2 will be here before we know it.
Thank you to all the friends and family that helped with the party and that came to celebrate with us. I can't tell you how much it meant to have all of you with us. We love you all.