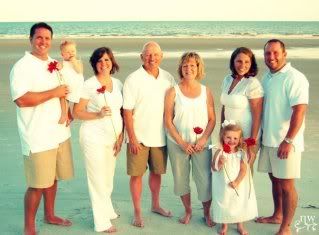 So this year my family went on our first vacation since my brother and I have married and had little ones. I will be honest I was a little nervous at how the week would go with so many personalities together for so long. Let me say that God is good and knew that we needed some good family time. We so enjoyed our time together...Addi and SS played wonderfully and my parents absolutely loved spending time with us and especially the girls (Addi and SS).
This was a much needed vacation for us as Scott and I have not had a vacation since 2005. A little ridiculous and we would talk about going places but then decided to spend money elsewhere.
Scott and I spent all day Friday and in to Sat packing and getting the things that we needed to stay for several nights. Packing for a almost week long trip with a little one is alot. We finally got on the road Sat afternoon...a little later than we had hoped.
I have been looking forward to this trip also bc I was so anxious to see SS on the beach and in the pool. Let me say that she loved the ocean and the sand....she ate ALOT of sand. The pool was not really her favorite but she tolerated it for a short period of time.
We spent everyday on the beach for several hours until the girls were exhausted. It was hard to time going to the beach around when SS would normally be down for a nap. She did well staying up later than she normally would. Preparing for the beach each day was a chore in itself. Making sure that SS had her lunch, snacks, spraying her down with sunscreen till she was a grease ball, getting her little swimmers and suit on, making sure she had her hat on and keeping it on and then loading her and Addi up in the wagon. Scott and I decided to take the wagon SS got for her bday and that was the best decision ever. We could load the girls up in the wagon and off to the beach we went.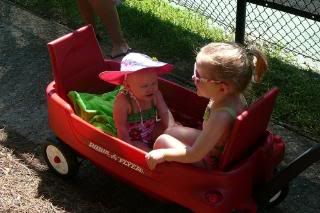 SS walked out on the beach and right in to the ocean like she had been there before. Scott was great with her...I let him be the one to take her in the ocean (I am not a big fan of the ocean) and I would snap pics and enjoy the sun.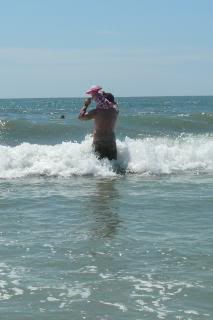 SS had so much fun splashing in the water and eating the sand.
My parents were wonderful and such a big help. They would entertain SS so that Scott and I could get sun and then when the girls were ready for a nap they would take them back to the condo to nap and let the adults stay on the beach.
Like I mentioned we did spend some time at the pool but SS really did not like it. I was able to get a couple of pics with a smile on her face.
The one thing that mom, Nicole and I had decided we really wanted done while on vacation was family pics. We had scheduled Sat evening with the photographer but after getting all ready and walking out the door the bottom fell out of the sky..sooo that led us to the ice cream shop and then the the grocery store...needless to say I was stressed that we would not get pics done. Well we made arrangements for Tuesday and yes I stressed the entire next 3 days but thankfully the weather held up and we got wonderful pics!!
sneek peek....
We had a wonderful time taking these and SS loved playing in the water in her white dress!!!
Overall this was a much needed very much enjoyed vacation!! I am very thankful for my family and look forward the our time together at the beach next year...with junior along!!!
I have to close this post with one precious pic of our little angel!!