I really cannot believe this...Sarah Scott will be one next month. They say that children grow sooo fast and I now believe it. It feels like yesterday that I was pregnant with her with feet the size of Texas, kankles, fat cheeks and one large large body...from head to toe. I cant tell you how much we have loved watching SS grow. She is a true joy and we love every second we have with her. She has passed many mile stones this month with her biggest being walking!!! I know this month will pass by fast and she will be sitting in her highchair with a bday cake that says "Happy first" in no time. I will enjoy this last month of her being a baby...once she is one she is all grown up...right?!?!
This is her favorite thing to do..unpack everything in the drawer!!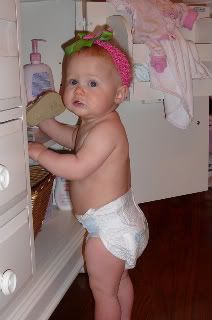 Hey mommy...oops got caught!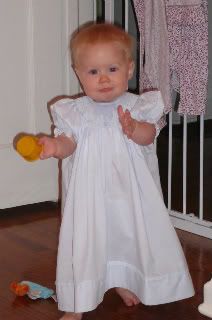 Walking like a big girl!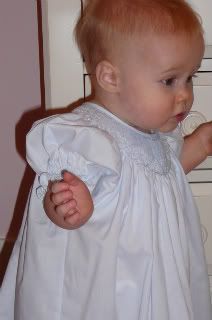 Ummm this box is sooo good!!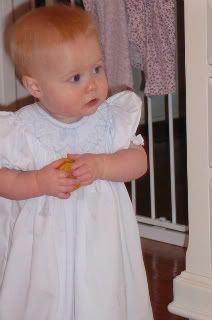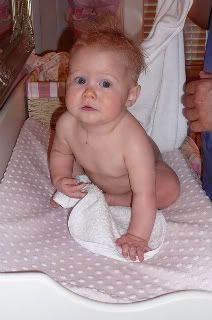 Pretty girl...can you see the drool!
What is she doing now:
Sarah Scott,
First I want to tell you again that we love you soooo much! You are the most important thing to mommy and daddy and we love to spend each second of the day with you. We still have yet to have a date night that we let someone watch you. We just enjoy being with you and would rather not be away from you anytime. This last month has been a big month for you. You have accomplished something very big...You are walking!!!! You are doing very well but will give out and get tired and just sit. Its so cute how you hold your mouth wide open with your arms stretched out when you walk. I think you know that you are a real big girl now that you are walking like mommy and daddy. You are still in size 3 diapers, 9 months clothes, weight about 18 lbs still, still sleeping through the night, have 4 bottom teeth and 2 top teeth (one of this is just now coming through), eating more adult food, love juice more and more and can hold the cup on your own, went to the next class (elephants) in Sunday school, wearing size 2 shoe, got your first swimsuit, tried out the water in a pool, say mommy and dada all the time, tell everyone you see "heeey" and wave to them, shake your head yes to anything we ask you, got your first pop on the leg this month (sorry baby girl) and are obsessed with outlets...no not shopping outlets that's later now its electrical outlets. I'm sure there is more but now lets touch on your food issue.
So you are still eating 4 6 oz bottles a day with maybe 8 oz at night. Well...that is when you feel like it. You seem to go day to day with what you want. One day you might want all formula and spit out all baby food and the next day you are the opposite. I was thinking that maybe you were sick of the same old thing so we have tried, pizza, eggs, noodles, Ritz crackers, Gerber ravioli and canned fruit. All of these things you spit out at us. I was starting to think it was a texture thing but lately you spit out baby food too. I think you are just a independent little thing and only want it your way. Tonight I gave you cows milk for the first time. You loved it. You drank some from a sippy cup and then had half and half in your bottle. We will continue that and go to just milk soon if you like it. Hopefully this eating thing will get better bc you have a big cake coming your way in about a month.
Another big for you was getting tubes. You have been fighting ear infections for a while and Dr.Barfield and I decided tubes were best bet. Last Monday 6/22 you had surgery and did very well. Mommy was not nervous...maybe daddy was a little...bc I see this all the time but you did great and despite your snotty nose the last week your ears are great. I am praying that your allergies will resolve....you get saline spray in that nose at least once a day...mommy hates boogers!!
Overall sweet girl you are getting sooo big. Mommy and daddy love you and I still love reading and singing to you each night...I hope you always let me do that! You are our sweet angel and we love you bigger than the world.
Happy 11 months Sarah Scott...your bday party is coming up soon...I know you will love it!!
Sweet dreams! xoxo