So this post is a little late but I have not had the time or energy at the end of the day to sit and write....that's pretty much laziness I guess but I'm prego I get to make excuses!!
Our 4th weekend was planned to be very low key...actually pretty much doing nothing because I had to work a 12 at the hospital. Friday was a good day because Scott and I were both off so we spent family time with SS. Sat was to start off with me getting up at 530 and getting ready for work....soooo that is what I did..showered and dried my hair and then ..ring ring...Hi Deborah Anne this is University hospital and you have been cancelled for the first 8 hours!! Ya know that's nice because I don't have to go in to work but heck I'm half way ready...so back to bed it was. We took it pretty easy in the AM bc I still would not know until 1 if I had to work. Scott and I were eating lunch and I made the comment that if I knew I didn't have to work we could have made plans to go see some great friends in Greenville...the wonderful Hickman's!!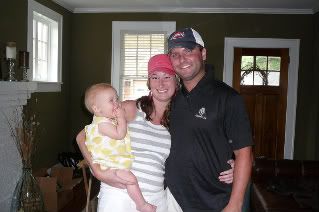 April and Jacob
Scott made the comment that it wasn't too late to go...which shocked me...so I began to plan a little in my head packing up and leaving.
..on a side note..not sure if you all feel this way but although we would not be in Greenville longer than 24 hours just the fact of getting away and out of your hometown sometimes is NICE!!!
Ok...so I got cancelled for the rest of the day..we called Jacob and April and in about an hour we were packed and headed for a little overnight trip. I was soooo excited to get out of town but let me tell you...packing for a little one just overnight is insane!! All the little things that you have to remember and then the really important things like something for them to sleep in!! SS didn't do that well in the car she wanted out of her seat so we were ready to get there.
We finally arrived..one speeding ticket later...and it was so nice to spend time with good friends. The Hickman's recently bought a new house and are remodeling some of it....they have done a great job and it is so adorable.
We enjoyed a nice dinner and then were off to fireworks. I was a little nervous how SS would do bc the fireworks started at 930 and her bedtime is 830!! Shes a big girl now and was going to stay up late for the first time ever!!
The fireworks were great but SS could have cared less about them. She just wanted to get down and walk around.
Greenville is a nice place and the downtown area is very nice with a lot to do!!
SS slept very well that night and Sunday the girls did some shopping while the guys enjoyed a game of golf!!
Sadly we had to head back to Augusta but overall had a great weekend and our last min plans were a great idea!!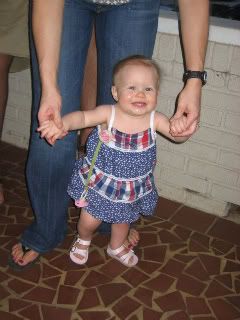 Thanks Grandmomma for my cute outfit!!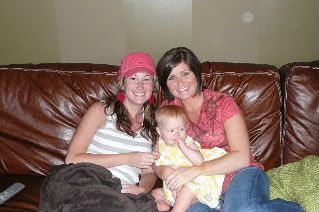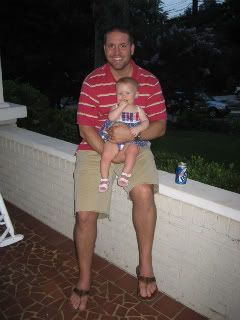 Hope you all had a great 4th!!