So Saturday we had a birthday party for my niece at Monkey Joe's. Addi was turning 3...I can't believe how big she is now. I have heard a lot about Monkey Joe's but never been. Scott and I were talking before getting there that this is really SS's first BIG outing with so many people and her first bday party. I mean she plays with other kids at Sunday School but I felt that she would be in toy and kid overload and not really know what to think. When we arrived I was a little overwhelmed myself...I mean whoo..LOTS OF KIDS!! Oh and may I add lots of kids running around with parents that were NOT paying attention to them. Anyway...that's for another blog.
We found our area for the party and put our stuff down, put on SS socks and Scott got his on and we were off. We checked out her little section..which I told one kid to get off of because he was to old:)...then decided to head on over to the big girl slide. Scott was amazing ...he climbed up this slide and went down probably 15 times. We were not sure how SS was going to like it but I think that the pics tells all.
SS and Daddy before the fun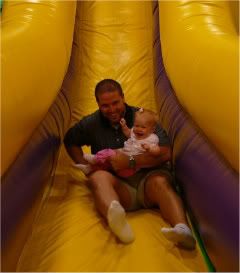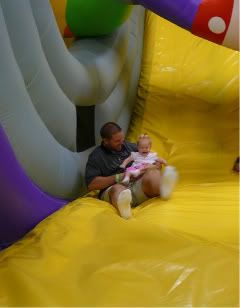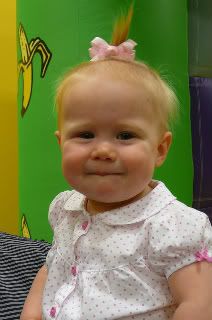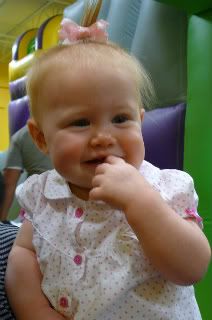 Looking back at mommy
I think this smile means she had a great time
Monkey Joe's made for a great day and a wonderful bday party for little miss Addi. SS had a wonderful time and needless to say she slept great last night.
For a few other side notes...SS and her eating is getting better. Scott told me that his mom gave her green beans and cottage cheese (yuck) on Friday and she loved them both. I was so excited to know she is starting to like more. CCheese is disgusting but if she likes it then I will be more than happy to get it for her. We had mex last night and beans that she normally spit out she seemed to enjoy too. So for all you moms that told me to be patient...I think you were right and it is getting better!