Praise the Lord, hallelujah, whoo hoo, thank you Jesus....those were my thoughts tonight as Scott gave SS some Kraft box mac and cheese and she ACTUALLY ATE IT...LOTS OF IT!!! If you don't know trying to get SS to eat anything other than baby food has been a bit of struggle. She will eat whip cream and ice cream but anything else she spits out. I know she will eventually eat it but I needed to know that she liked at least one thing other than ice cream...so mac and cheese it is!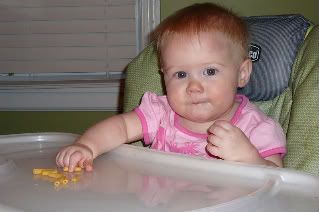 Enjoying her mac and cheese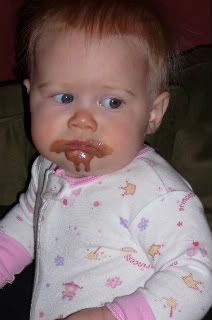 SS first chocolate Popsicle
So overall I have not had the time to sit and blog so I am doing a little catching up. I have been picking up some extra shifts at the hospital and have been pretty exhausted lately. Also mentally exhausted trying to plan SS first bday party. I have decided that I should have started this planning about 4 months ago. I am such a procrastinator though and I hate that about myself. I will say that I am very thankful for my mom n law she is helping me do a lot of things so that takes some stress of me. There is so much to plan down to the perfect outfit...and let me tell you she will be looking cute!!!
Things are well around the Whitfield house and the biggest news is that I started feeling my little man move yesterday. I have been anxiously waiting on that so it was nice to feel some flutters.
SS is walking, walking, walking and even has a little trot in her step. We were outside the other day and she was walking all around the yard so I was able to get some pics of her...she refuses to smile for pics these days but she is still precious!!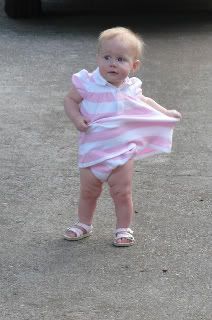 Scott and I just love to sit and watch her...she is such a joy and I swear we could eat her up for dinner...you start kissing those sweet little cheeks and hearing her giggle and just can't stop. She is talking so much and says "hey", "bye", "buggle" aka Tuggle, "booo" (for peek a boo) and the good ole momma and daddy!!! Scott loves to come home and be greeted with a "heeey." She tells hey to anyone that she sees.
So tonight after all the excitement of her enjoying a new food I was cleaning the kitchen...we played some and I went to the kitchen to make her bottle. I obviously left the frig open and turned my back for I think maybe a second...turned around and this is what I see....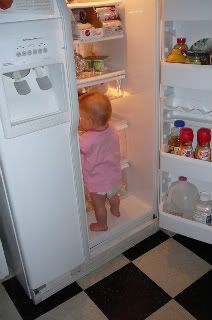 I took a quick pic and just smiled bc it was so cute!
Well I think I am off to bed. I have more bday planning to do this week and work this weekend.
I do have my 20 week appt on Monday (although 20 weeks today) so looking forward to that.
I need to go have a looooong talk with the Lord...Scott and I can't seem to agree on a boys name so it may take a visit from the Lord...like coming to our room one night and in all of His glory and brightness and standing in front of Scott saying...either....."the child your wife is carrying will have the name ???" or "Scott just do what Deborah Anne wants"...the second thing would be my choice but I don't always get my way!! We will see but either way we need a Jesus intervention!!