So it was our first Christmas as a family of 4...how exciting. Can you really ask for a better Christmas gift than a healthy little boy. The Lord has truly blessed us and we are so very thankful to him for our 2 little angels!!
Although SS really does not understand the idea that Santa comes to bring gifts on Christmas we tried to talk with her about it and continue to tell her that Santa was coming...the only thing she got down was that Santa says "HoHo"..most of the time all we would get out of her was that Santa says "Ho"..it was cute! However, even though she does not understand Scott and I had a great time playing Santa. This year SS got a new car along with other toys like puzzles, books, a cupcake purse etc... Scott had the privilege of putting the car together and I will say he loved every min of it. I so enjoyed sitting back and watching the excitement in his eyes as he put together the car for Sarah Scott. He could not wait to see the excitement in her eyes when she saw it. He had it all planned out as to how and when we would bring it out! He loves that little girl more than she knows!!! We had a late night with getting the car together and trying to get Hampton to bed...another blog in itself! We finally got to bed around 1 or so and I had a pretty long night with Hampton so Scott started Christmas morning off alone.
He woke me up around 9 and had already got on video what Santa brought and had breakfast made. I know I know he is a good man. I so needed the extra sleep and to wake up to waffles and a cup of coffee was great. He got SS up and we headed to the den to let her see her toys.
It was so fun to see the excitement in her eyes with her toys. After she opened her little toys we brought out her new car. At first she just stared at it and then got a big smile on her face.
She does not understand that her feet make her move so right now we are doing the pushing.
This is SS with her new juice cup and purse. She looked so cute walking around the house like a big girl with it.
Hampton got a new jungle gym that he can lay on and play...how horrible is it that we did not take one pic of him by it. I realized this last night and felt like a horrible momma. We were so caught up in SS and her new car and it completely slipped my mind. Sorry little man!!!
After enjoying our morning together the family rounds began.
We had celebrated Christmas with my moms side of the family Christmas Eve..here are a few pics from that!
Christmas day we spent lunch with my parents and dinner with Scott's parents. It made for a long day but was very nice...we had quality time with both sets of parents and very much enjoyed it.
Scott's parents with the grandchildren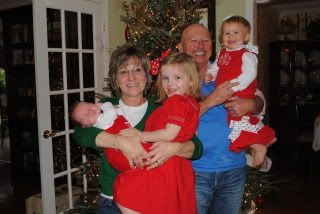 My parents with the grandchildren
Another tradition that we have always had is getting together for breakfast with several families that I grew up with. This has always been so much fun and I am so glad we have continued the tradition despite all of us starting our own families. This year we were missing several people but we still had a wonderful time.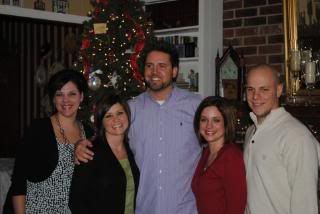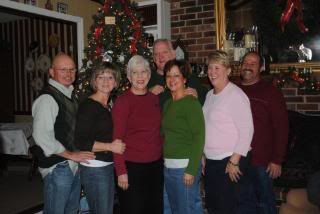 Christmas 2009 was a great one. I am looking forward to next year when Hampton is running around like SS was this year and SS will more understand that if she is a good girl...haha...then Santa will bring her toys!!