So Sunday was a week since we have been home and things are running pretty smooth. Hampton is doing well and still has his days and nights pretty confused. Our first night home was a dream but the second night he had me up from about midnight until 7AM when I broke down and lost it. I cried a majority of the next day and Scott thought I was a little insane. I have pulled myself together since then and Hampton's nights are getting some better. His biggest struggle is when his paci falls out he wakes up. I find myself just hanging out in his room at night until the paci falls out and he is so asleep that he does not notice.
Sarah Scott is adjusting very well and calls Hampton "baby." She has not had any jealousy issues and really just wants to kiss him all day. We have to really watch her bc she will crawl all over him to get in a kiss!! When she first saw him she really did not know what to think and just stood in one place and stared for a while. She slowly made her way over to him and kissed him several times.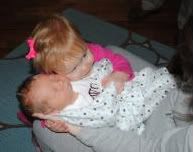 This is SS meeting Hampton for the first time
Scott was home with me all week and we got to enjoy some family time together. He was a HUGE help to me. I was slow moving with the c section and he took over all responsibilities of SS which really helped me. He went back to work yesterday and I will say I survived the day. SS woke up right after I finished feeding Hampton in the morning and that made for a smooth start.
Last Tuesday Hampton had his first MD appt and he did really well. He weighed 8lbs 12oz which put him at only an ounce from his birth weight. Dr. Getts said that he was perfect...yes we know that:)...but he does not even have to go back for his 2 week check up bc he has done so well with his weight. I guess that means that mommies milk is good stuff!!!!
Today Scott's mom ("BeBe") came and got SS to play with her. I am a little relieved to have a break and happy for SS because she needs to get out of this house. I feel like the walls are closing in on me and I know she feels the same way. We can only watch Barr-eee (Barney) so many times!!!
I have my MD check up tomorrow which for some reason I am excited about...maybe bc it requires me to get up and shower and I get to go somewhere!!!!
Overall the Whitfield's are doing well and loving being a family of 4.
Here are some pics of Hampton to enjoy!!
First sponge bath
Hampton will have his newborn pics on Sat. so look for those soon!!